News & Updates
Matex News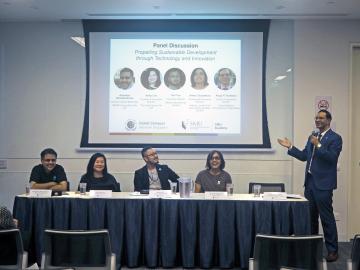 GCNS : Panel Discussion – Propelling Sustainable Development through Technology and Innovation
The business landscape in Singapore has seen large changes due to technology and innovation, which includes artificial intelligence, Internet of Things, automation and digitalisation. The impact has brought about significant change in areas ranging from product and service development, production and operation processes, labour force work scopes, supply chain management, consumer behaviour, brand equity, to investor behaviour. Companies must face the realities of a new era and manage their business holistically to capitalise on opportunities and mitigate the risks from disruptive technology.
Business longevity is grounded in a multi-pronged approach that extends beyond economic profit to the good of people and the planet. It is crucial for companies to navigate the complex merging of sustainability issues and disruptive technology to harness its opportunities and deliver on global issues such as the Sustainable Development Goals.
The panel discussion have explored:
• The impact of technology and innovation on the Singapore business landscape as the demands for a more sustainable future grow more urgent,
• How companies capitalise on opportunities from emerging technology and new applications,
• How to identify and mitigate risks across various industries,
• What can businesses do to harness and accelerate emerging technological solutions for sustainable development.
Panellists
• Ms Amita Chaudhury, Sustainable Business Director for Unilever, South East Asia and Australasia (SEAA); Senior Advisor, Sustainability Learning, United Nations Global Compact
• Mr Ashokan Ramakrishnan, Director (Smart Metering), iWOW Connections Pte Ltd
• Mr Dro Tan, Executive Director, Matex International Limited
• Ms Anna Lim, Executive Director, The Soup Spoon Pte Ltd
• (Moderator) Mr Anga R Timilsina, Global Programme Advisor, United Nations Development Programme