News & Updates
Matex News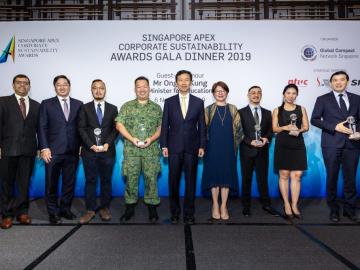 A Magazine Singapore | Getting The Green Light At The Singapore Apex Corporate Sustainability Awards Gala Dinner 2019 Presented by the Global Compact Network Singapore With Guest-Of-Honour Ong Ye Kung, Minister for Education
Do you ensure strict governance in your organisation such that environmental and social performances are of equal importance to economic performance? Banyan Tree Hotels & Resorts as well as the Changi Airport Group do, and were big winners at the Singapore Apex Corporate Sustainability Awards as a result of their efforts.
Organised by Global Compact Network Singapore (GCNS), the local chapter of the United Nations Global Compact (UNGC), on 6 November, the awards promote responsible corporate practices by recognising companies whose business operations or solutions have demonstrated excellence in embodying the 10 principles of the United Nations Global Compact in the areas of environment, human rights, labour and anti-corruption.
The Awards also encourages local companies to practise sustainable solutions in the development of their products and services by measuring the social impact they create through innovative solutions with technological attributes that focus on the future. Winners in this Sustainable Solutions category are Matex Holdings, Moya Holdings and Right People Renewable Energy (RPRE) Singapore.
For more information, please visit: https://read-a.com/getting-the-green-light-at-the-singapore-apex-corporate-sustainability-awards-gala-dinner-2019/https://read-a.com/getting-the-green-light-at-the-singapore-apex-corporate-sustainability-awards-gala-dinner-2019/