News & Updates
Matex News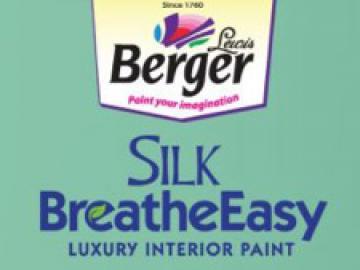 HeiQ | Berger Paints Introduces Innovative Antiviral Wall Paint Powered By Heiq Viroblock
The HeiQ Viroblock technology platform expands its impact to consumers' lives as it is adopted for the first time in wall paint. The collaboration between HeiQ and Berger Paints has led to a world premiere designed to enhance hygiene and reduce the risk of contamination in households.
Berger Paints of India has partnered with Swiss textile innovator HeiQ to produce a unique luxury interior emulsion, Silk Breathe Easy powered by one of the world's most effective antiviral ingredients, HeiQ Viroblock. Having proved its efficacy on over 1 billion textile products around the world, HeiQ Viroblock underlines its multifaceted characteristics with this premiere of providing antiviral properties to paint.
Ingenious and innovative antiviral paint
Silk Breathe Easy, a luxury interior paint designed to give walls a rich appearance, significantly reduces air pollution indoors, kills bacteria and protects surfaces from viruses. Formulated with 100% acrylic emulsions and vibrant pigments, it has low volatile organic compound (VOC) and comes packed with formaldehyde reduction abilities. The creation of this revolutionary new paint protects surface from virus highlights the qualities of innovation, agility and sustainability that exemplify both HeiQ and Berger Paints and underline the pioneering spirit that characterizes this partnership.
Silk Breathe Easy interior paint have the following properties of:
- Protecting wall surface from Viruses with an efficacy of over 99% (within 30 minutes of the virus coming in contact with the surface painted with Silk Breathe Easy)
- Tested & Certified Anti-Bacterial – protects surface from 29 different strains of bacteria with a 99% efficacy
- Tested & Certified Anti-Pollution – the paint mitigates 3 pollutants – Formaldehyde, Sulphur Oxides & Nitrogen Oxides.
Berger therefore highlights these properties to stress that Silk Breathe Easy not only provides superior aesthetics but also helps to minimize propagation of infection through surface contact & reduces the level of pollution in the rooms. Tremendous efforts have gone into developing the paint – which involve both superior raw materials and ingenious processes while manufacturing.
For more information, please visit: https://heiq.com/2021/03/09/berger-paints-introduces-innovative-antiviral-wall-paint-powered-by-heiq-viroblock/