News & Updates
Matex News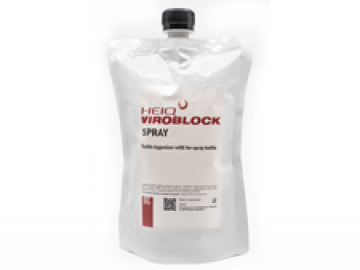 Exclusive launch of Viroblock Hygenizer in Asia (Antiviral & Antibacterial protection, Product Series)
Viroblock Hygenizer, which provides an antiviral and anti-bacterial textile treatment, with its unique combination of silver and vesicle technologies designed to significantly reduce viral and bacterial infectivity on the treated surfaces.
- Effective protection against contamination and transmission of viruses and bacteria that use textiles as hosting surfaces.
- Kills bacteria and destroys viruses in minutes.
- Effective against common harmful viruses such as influenza and coronavirus.
- Breakthrough combination of two leading HeiQ technologies:
1) HeiQ's registered silver technologies for antiviral and antibacterial effect
2) HeiQ's fatty vesicle technology as a booster that destroys viruses.
- Harnesses the natural antiviral and antibacterial properties of silver.
Testing was done to showcase the infectivity rate after applying the Viroblock hygenizer. The results were clear in showing the effectiveness with the reduction of the infectivity rates. The results can be seen below.
Whilst stocks last!!!
https://matex-sg.myshopify.com/products/heiq-viroblock-textile-hygenizer
Please click the below to find out more about Viroblock:
https://youtu.be/aeXn1Up_qdE
https://heiq.com/products/functional-textile-technologies/heiq-viroblock/
Matex Singapore
Visit us: http://www.matex.com.sg/
Click here for Matex E-Shop:
https://matex-sg.myshopify.com/
https://shopee.sg/shop/328887034/search
https://www.lazada.sg/shop/matex-sg/
https://www.amazon.sg/s?me=AEF7M7K7HHXJ7&marketplaceID=A19VAU5U5O7RUS